China's Shagang Steel raised its finished long steel prices by CNY100-200/mt ($15-31/mt) for mid-July deliveries, while keeping finished flat steel prices unchanged from early July listed prices. A tight supply of iron ore and imported ferrous scrap has kept steelmakers' input costs elevated, leading to a margin squeeze.
Last week, steel futures rose as the government directed some steel mills to cut production by 30pc through the end of 2021. China's central bank lowered the Reserve Ratio for banks by another 0.5pc to improve liquidity and support the development of the real economy. This could result in a steady decline of financing costs and promote investment, thereby boosting steel demand.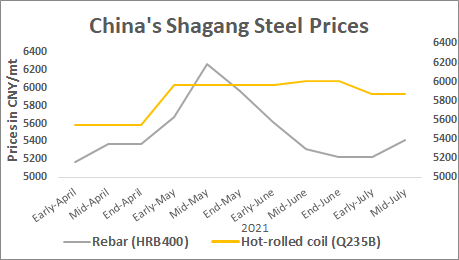 Long steel
After registering successive drops since late May, the listed price of rebar has been revised upwards for mid-July deliveries.
Rebar (HRB400,16-25 mm) offers rose to CNY5,420/mt ($837/mt) ex-works for mid-July, up by CNY200/mt from early July (1-10).
Offers for wire rods (HPB300, 8mm) have remained stable since early June shipments at CNY5,710/mt ($882/mt) ex-works, inclusive of 13pc VAT.
In the domestic market, Q235 150mm billet prices rose from early June, due to high raw material prices. On Friday, Chinese billet prices jumped up to CNY5,020/mt compared to CNY4,870/mt ex-Tangshan, including VAT from prior Friday.
Imported billet prices rose by $15-20/mt from the prior week's low, reaching $690-700/mt cfr China on Monday.
Shagang Steel's retail prices for mid-July shipments
Products
Grade
CNY/mt
Change over early-July
Rebar
HRB400
5,420
200
HRB500
5,720
200
Threaded strips
HRB400
5,700
0
Wire
HPB300
5,710
0
30MnSi
5,780
100
Hot-rolled coil
Q235B
5,930
0
Q355B
6,060
0
Wide plate
Q235B
6,000
0
Flat steel
The steelmaker held its finished flat steel prices stable following global cues. Offers for HRC Q235B at CNY5,930/mt ($918) ex-works while export offers at $930-950/mt fob China, down over $50/mt from late June. Piling of inventories has also added to bearish sentiments. Demand for flat steel is mixed amid production cuts by automakers.
HRC futures registered an uptick of CNY500/mt on Monday, while spot prices rose by CNY220/mt to CNY5600/mt ex-works from the last week. Russian steelmakers were forced to reduce inventories at a discount before August 1, following the announcement of 15pc export duty. Lower offers from Russia weighed down HRC prices in the export market last week.
Raw material rangebound
Chinese spot iron ore prices hovered in a range amid subdued domestic demand. On July 9, spot iron ore 62pc Fe fell to $215/mt cfr north China, down by $2/mt.
Amid tightening supply, Shagang Steel held its ferrous scrap procurement prices. Prices for HMS 6-10mm in Jiangsu province above CNY3,750/mt delivered Zhangjiagang works, including VAT.
($1=CNY6.46)